If you live in Canada, have a passion for British Shorthairs, and are looking for the right breeder to connect with, you've come to the right place. Below is the list of British shorthair cat breeders in Ontario.
List of British Shorthair Breeders in Ontario
| | | | | |
| --- | --- | --- | --- | --- |
| Breeder | Address | Phone | Email | Website |
| British Elite Cattery | Newmarket, Ontario | N/A | [email protected] | britishshorthairelite.com |
| Happy Whiskers Cattery | Huntsville, Ontario | (705) 241-9570 | [email protected] | happywhiskerscattery.ca |
British Elite Cattery
Our cattery is registered with TICA and CCAFC, and we breed British shorthairs in golden, silver, and pointed colors. These cats are exceptionally gorgeous, with emerald-green eyes and black eye lines.
The British shorthair is one of the world's most popular cat breeds. It's hardly surprising, as British shorthair cats have wonderful personalities: they are calm, cuddly, gregarious, and friendly. They get along well with youngsters and other animals.
The remarkable combination of golden hue and emerald eyes will unmove no one. The powerful body, plush hair, delicate and social personality, and refined modern type of our cats do not escape the notice of specialists at cat events. We endeavor to preserve and instill in our animals the accomplishments of our European breeders.
Our top priority is health. Our cats have tested negative for FIV, PKD, and FeLV. As a hobby breeder, our British shorthairs are cherished family pets, and our British kittens are born and raised in our house with lots of affection.
We breed for quality rather than quantity. Therefore we only have a small number of British Shorthair kittens available each year, and we have a waiting list of eager adopters.
Location: Newmarket, Ontario
Website: British Elite Cattery
Facebook Page: British Elite Cattery Facebook
Email: [email protected]
---
Happy Whiskers Cattery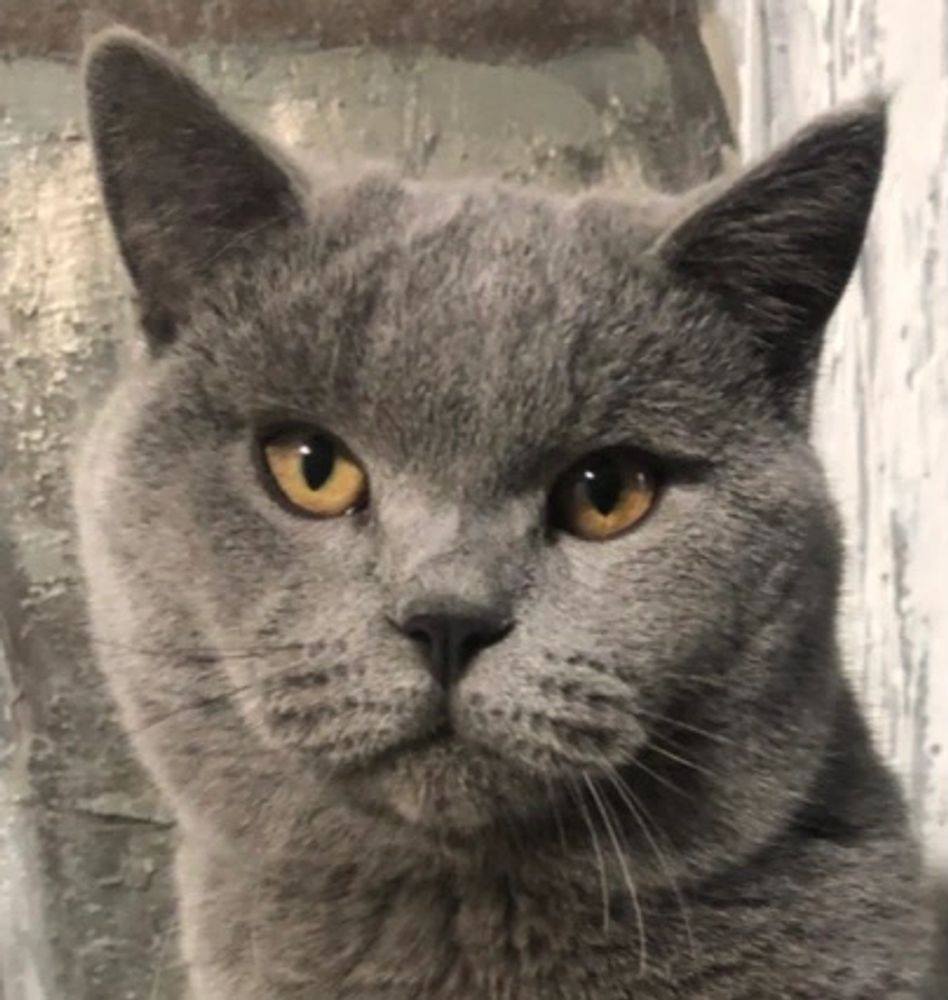 The Happy Whiskers Cattery welcomes you. We are a small home-based cattery in Huntsville, Ontario, in picturesque Muskoka. Our cats are British Shorthair Purebreds registered with the CCA (Canadian Cat Association) or TICA (International Cat Association). Our cattery is registered with both the CCA and TICA. Our cats live with us (with kings and queens kept separate) and are raised alongside our children and dogs. Our kittens are nurtured by hand and are socialized and cherished from birth. Our cats and kittens are reared as family members and are never confined to cages.
Address: Huntsville, Ontario
Website: Happy Whiskers Cattery
Phone: (705) 241-9570
Email: [email protected]
---
Short History of the British Shorthair cats
The British Shorthair traces its history back to the familiar non-pedigree shorthair cat still found in many homes today, which is likely descended from European domestic cats introduced to Britain by the conquering Romans in the first century A.D.
Harrison Weir, a natural history artist frequently referred to as the "Father of the Cat Fancy," established the initial standards by which cats were assessed in early competitions. He was particularly fond of the lowly stray cat, and through a program of rigorous selective breeding, he created the British Shorthair into a distinct cat breed. Harrison Weir significantly affected the Cat Fancy in the United Kingdom. In addition to arranging the first Crystal Palace show, he formed the National Cat Club in 1887, which still exists today.
British Shorthairs were among the most numerous exhibits at cat exhibitions as the Cat Fancy evolved rapidly after Queen Victoria's reign and into the 20th century. The Great War had a terrible effect on the breed, but a handful of dedicated breeders kept them alive, and by the end of the 1930s, the numbers at cat exhibitions had rebounded.
Then World War II occurred, and a handful of enthusiasts once again kept the breed alive. British cat breeders were forced to interbreed domestic cats with other species after the war to maintain genetic diversity. Also utilized were the Russian Blue, the Burmese, and the Chartreux. To restore type and bone structure, breeders needed to employ Persians. This also introduced the long-hair gene into the breed, and long-hair kittens occasionally arise in litters; however, it is feasible to do a gene test to determine whether a cat possesses the long-hair gene or is homozygous (breeds true) for shorthair exclusively.
Are British Shorthair cats Hypoallergenic?
Regrettably, no. Even when combed regularly, their short, extremely dense fur seems to get everywhere, as any British Shorthair owner can confirm. They create the same amount of allergens as any other cat and will provoke the same reactions. The dander and saliva adhering to the hair will cause you to cough and sneeze.
Do British Shorthair cats Make Good Pets?
British shorthairs make excellent pets and obedient companions. They like being near people but may not want to be held or caressed. Your cat may be happiest sitting next to you on the sofa or simply in the same room. They tend to be calm felines.
Conclusion
The British Shorthair breed is well-rounded, described by its fans as good with children, affectionate, and with an overall gentle personality. They are calm with an even temperament and have a sense of humor.
If you want to find other cat breeders in Ontario, we've got you covered!
Cat Breeders in Ontario, Canada
Image Credits:
https://depositphotos.com/103532084/stock-photo-little-amazing-british-shorthairs-cat.html