Maine Coon breeders in British Columbia, Canada, are instrumental to find the perfect Maine Coon cat for your family. If you're looking for a Maine Coon breeder in British Columbia, look no further than us! We have researched the top Maine Coon breeder in BC.
List of Top 4 Maine Coon Breeders in BC
Ariya
The Ariya Maine Coon Cattery is run by a family. My mother, children, and I have all devoted Maine Coon enthusiasts. We all work relentlessly to give our cats and kittens the finest care possible. Their socialization, Health, and well-being are our highest priorities.
Even though their ancestry is entirely American, our cats have a European appearance and heritage. We specialize in Red and other priceless hues. We put on a show and urge people to seek out high standards: Excellent temperament, Beautiful presentation, and Health.
My three children and I reside on a tiny farm on Vancouver Island's Lake Cowichan. I remain at home so that we may provide our cats and kittens with the finest care possible.
The cats that we choose for our breeding program are selected for their beauty, Health, temperament, and conformance to the criteria of the breed. Our breeding program's requirements are stringent. All our males and females are subjected to a comprehensive health exam, including complete DNA testing, HCM & PKD echo screening, and x-rays. Before breeding, we verify that our cats are flawless.
Name of Owner: Svetlana Frantsishko
Address: Lake Cowichan, BC
Email: [email protected]
Website: https://www.ariyamainecoon.com/
---
European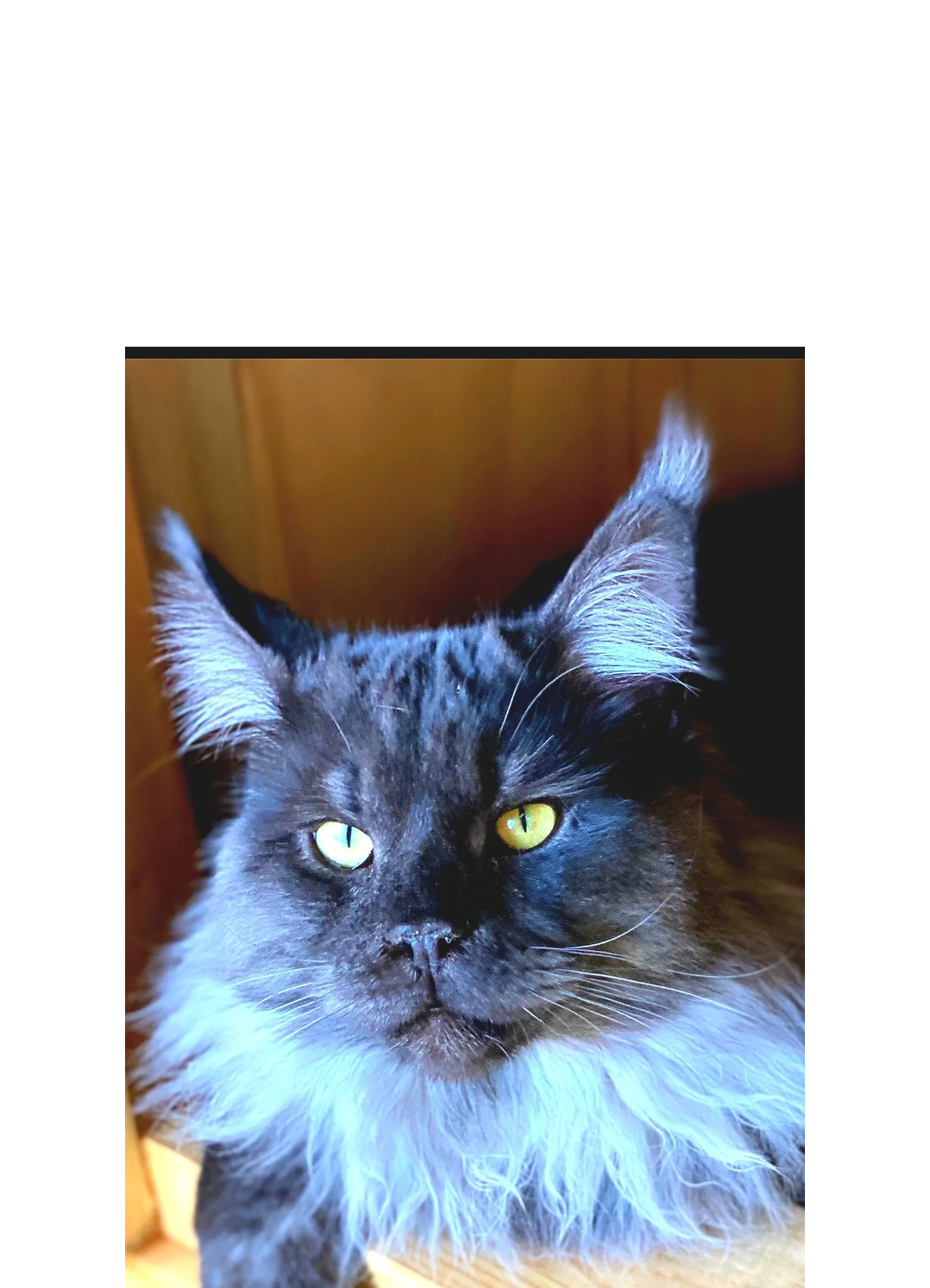 Our Maine Coon breeding cats were properly selected and imported from Europe. We aim to breed large, attractive, healthy, and socialized Maine Coons.
All of our breeding cats are negative for Hypertrophic Cardiomyopathy (HCM), Spinal Muscular Atrophy (SMA), Erythrocyte Pyruvate Kinase (PK-def), Feline Leukemia Virus (FeLV), and Feline Immunodeficiency Virus (FIV) (FIV). Our kittens include a one-year genetic health guarantee and breeder assistance for life.
Kittens are born in their specialized quarters, allowing us to keep a close eye on both the queen and the kittens! We only breed Maine Coons; we do not breed any other animals! We have constructed a massive 18-by-34-by-6-foot outdoor cattery for our Maine Coons to enjoy in good weather. This outdoor cattery features distinct sleeping areas, a jungle gym, toys, tunnels, climbing trees, bean bag seats, wall perches, and hammocks, among other amenities. It is surrounded by sturdy steel fencing to protect the Maine Coons. We are excited to share this great breed with others and proud of our new, upcoming cattery.
Name of Owner: Janet Patko
Address: Maple Ridge, BC
Email: [email protected]
Website: https://europeanmainecoon.com/
---
Lionsgait
Lions Gait Cattery is a TICA-accredited, small-scale, ethical cattery. Our first concern is the care and wellness of our breeding cats and their offspring. To produce the healthiest kittens possible, we conduct intensive testing and investigation.
Optimal Selection genetically tests our breeding stock for over 40 hereditary diseases, including HCM, SMA, PK Def, PKD, Factor XII deficiency (Hageman disorder), MDR1, and Cystinuria. Our cattery does screenings for FeLV and FIV, hip dysplasia, ECG for heart problems, bite alignment, and periodontal Health. We support immunization but not over-vaccination (yearly). Inquire with your veterinarian about antibody titer testing.
Our females enjoy unrestricted access to a two-story home and an enclosed terrace (catio). On pleasant days, our male likes the outdoors in a safe, contained space. In the winter, he is provided with a big, windowed area adapted for male territory marking. He receives an abundance of human connection, playtime, and toys.
We operate from dawn to dusk every day. There are no days off, no vacations, and no sick days. Our cats receive continuous care and attention to their mental and physical requirements. To the extent that it has altered our living conditions and way of life, operating a cattery feels more like a lifestyle to us. In the foreseeable future, we plan to work with new foundation lines to improve the breed's overall long-term Health.
After a minimum of 12 weeks, kittens leave the cattery with two rounds of core vaccinations, a microchip, deworming, flea prevention, a veterinary health certificate, a sales contract, and pedigree registration documents.
Name of Owner: Charna Erlichman
Address: Chilliwack, BC
Email: [email protected]
Website: https://www.lionsgait.ca/
---
Mythicaldream
We are a small cattery located in Victoria, British Columbia, Canada. Our cats reside in our home and are treated as family members. Each kitten in our cattery is handled daily from birth, ensuring proper socialization before adoption. We specialize in breeding European Maine Coons. We are TICA-registered and listed on the TICA online breeders directory for Maine Coon cats with standard paws and Maine Coon cats with polydactyl paws. As a responsible, ethical breeder of Maine coons, we conduct numerous tests on all of our purebred breeding Maine coon cats.
The tests include DNA, HCM/PKD echocardiograms, hip scans, and patellar luxation checks; except for DNA, these procedures are conducted annually. These steps ensure that your furry family member is genetically and physically healthy.
Name of Owner: Kimberly Bowes
Address: Victoria, BC
Phone: (236) 562-8947
Email: [email protected]
Facebook Page: https://www.facebook.com/mythicaldream/
---
Are Maine Coon cats Hypoallergenic?
If you're looking for a hypoallergenic cat, the Maine Coon is not your best bet. While they are very affectionate and friendly with people, their coats can be pretty thick. Even though the fur is shorter than other breeds, it sheds more than other cats.
Maine Coons are also known as the "gentle giant" because they make great family pets! They're gentle with children and very good with other pets.
Do Maine Coon cats Make Good Pets?
Yes. Maine Coon cats are great pets! They have a lot of affection and intelligence and are very friendly. They will get along well with children, especially if you have an older child who can guide your Maine Coon cat. These cats also live a long time, so you don't need to worry about them getting bored with their owner or vice versa (although this is certainly possible).
Do Maine Coon Cats Shed?
Because Maine Coons are not hypoallergenic, they do shed. You must brush and groom your cat regularly to keep them looking their best. If you don't want to deal with the hassle of having a long-haired Maine Coon, consider getting one of the short-haired varieties instead!
Maine Coons require regular brushing and grooming as well—they can be trained to use a litter box if you're willing to invest time and effort into training them (more on this later). In addition, many people find that their cats are more susceptible than other breeds when it comes to mats forming on their fur, making self-grooming difficult until they become accustomed.
Conclusion
When looking at a Maine Coon breeder, there are many things that you should consider. Knowing how well they care for their animals and how they treat them is essential. If someone is not a good breeder, they may not be able to give you the quality of care you want or need in an animal. The best part about having a Maine Coon cat as a pet is that it will always be there for you no matter what life throws your way!
Didn't find what you're looking for? Check out some more Maine Coon breeder listings in:
Image Credits:
https://depositphotos.com/85306908/stock-photo-maine-coon-kitten-and-mother.html